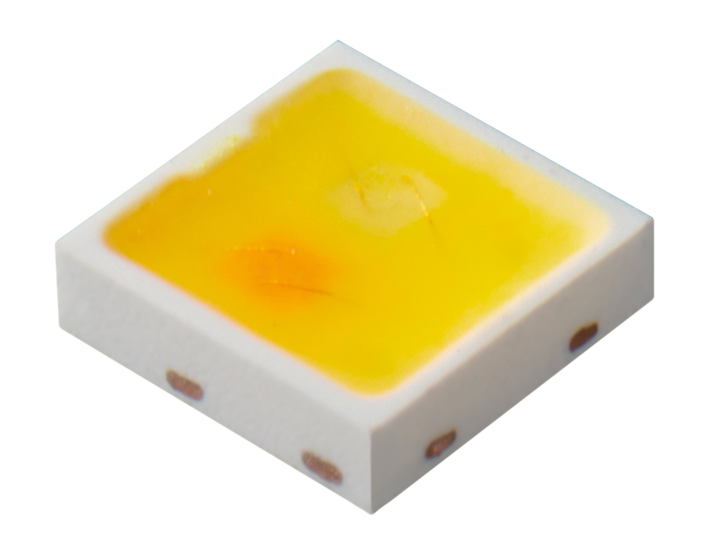 Nichia has announced the 757G-MT mid-power LEDs with white-point tunability enabled by two LEDs integrated in the 3030 (30×30-mm) package. Lumileds has also announced a new 3030 LED with a focus on maximum efficacy and targeting solid-state lighting (SSL) applications such as troffers and panel lights. Cree has announced plans to build the world's largest silicon-carbide manufacturing facility in New York — but it's not for LEDs.
Nichia tunable LED
The 757 LED family is Nichia's 3030 workhorse mid-power LED that's used in applications ranging from replacement lamps to street lights. Indeed, Nichia has offered dozens of variants of the original 757 and now has added white-point tunability in a single 3030 device. The more formal model number of the devices is NF2W757G-MT with the 2 implying dual die in the package and the MT implying multicolor or tunability. The new LED targets applications including lighting for health and wellbeing or human-centric lighting along with tuning to enhance the ambience in a space.
We have seen many approaches to tunability in a single package, but generally such a feature is limited to larger products. Sharp, for example, brought such capability to market in a chip-on-board (COB) LED all the way back in 2012, although Sharp has since exited the LED business.
A COB makes mixing cool and warm sections of an array relatively simple. That original Sharp LED used stripes of cool and warm phosphor, thus the name Tiger. Nichia has tunable COB products that have a checkerboard pattern of cool and warm phosphor.
In SSL applications using mid-power packaged LEDs, designers have generally implemented tunability by placing cool and warm mid-power LEDs side by side. That approach works relatively well because the components are pretty small and color mixing is accomplished with a secondary optic.
Still, it will be an advantage for SSL manufacturers to implement tunability with a single LED, although such implementations will still require two driver channels. As mentioned earlier, the Nichia products integrate two LEDs and have separate electrical contacts for each. Still, in a product such as a rectilinear luminaire, developers will have more flexibility regarding where to place a minimal LED count for the light output required.
Optics advantages
There are other advantages. Because the two emitters are located more closely together relative to the case with adjacent cool and warm packages, the mixing takes place more efficiently. Nichia says that means the secondary optic can be located nearer the LED and the optic can be thinner. Ultimately, we'd also expect that the LEDs will deliver better color over angle uniformity when photometric test reports are revealed.
The company clearly has high expectations for the new LED. "Nichia is again about to deliver a new standard in LED technology," said Shinichi Yuasa, director and executive general manager of LED sales and marketing at Nichia. "This technology isn't a concept or prototype; this is a ground-breaking, game-changing reality which marks a significant advancement for luminaire manufacturers and the industry. Our 2-in-1 tunable white LED is well placed to become a benchmark LED technology for the majority of luminaires to employ, with the scope to more easily enable [human-centric lighting] designs in the future."
We haven't seen full details or specifications for the new product, but Nichia said CRI will range to 90 in some components and 80 will apparently be the minimum CRI. The tuning range will span 2700K to 6500K. Either of the emitters will deliver just over 30 lm maximum.
We also don't have full details on the architecture of the LED. We have seen some other approaches to tunable mid-power LEDs. For instance, Sharp did once announce a mid-power package with separate cavities for cool and warm LEDs.
It would be almost impossible to get acceptable granularity of control if you simply put two LEDs in one package cavity and covered one side in cool phosphor and the other in warm phosphor because there would be crosstalk between the emitters. Based on the product images we have seen, it appears that Nichia is coating one of the two die directly with a warmer phosphor and then coating the entire package with a cooler phosphor.
Lumileds high efficacy
Moving away from tuning toward an energy efficiency story, Lumileds' Luxeon 3030 HE Plus delivers 210 lm/W at a CCT of 4000K. Initially, the LED will only be available in CCTs of 4000K and higher, and that matches the sweet spot for the identified commercial and industrial target application. But Lumileds said it would add warmer CCTs down to 2700K by the end of the year, extending the application reach to hospitality and more.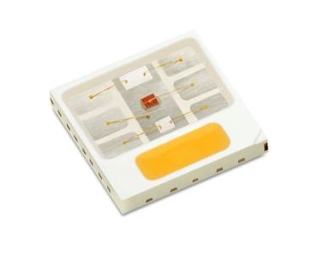 Lumileds' new Luxeon Multicolor Module features four monochromatic LEDs to address architectural and façade lighting, as well as signage applications. (Photo credit: Image courtesy of Lumileds.)
Lumileds also recently released interesting 5050 and RGBW (red, green, blue, and white) packaged LEDs. The Luxeon 5050 Square LED joins the prior 5050 Round portfolio with both targeting directional lighting applications. A 5000K, 70-CRI model of the LED family delivers 825 lm at 170-lm/W efficacy when driven at 160 mA. Lumileds claims the performance is tops in the industry in terms of efficacy for a 5050 LED.
The Luxeon MultiColor Module, meanwhile, integrates monochromatic color LEDs along with what looks like a rectangular mid-power, phosphor-converted white LED. Use of the term module seems a bit strange because the package looks to be just a larger surface-mount-device (SMD) component than the typical mid-power LED — it's in a 5050 footprint. Combined, the four emitters make the device a 2.5W LED. Lumileds is targeting façade lighting, signage, and architectural lighting applications.
Cree non-LED fab investment
We'll finish here with what is not an LED story. Rather, it's a story about a company that was arguably the technology leader in high-power LEDs moving its primary focus away from the SSL sector. Indeed, a few years ago Cree likely was the largest supplier of LEDs in the world into the general illumination sector, and it was the performance advantage of silicon carbide substrates that had helped the company achieve that position.
As we have written a number of times, Cree has moved its main focus to silicon-carbide based power semiconductors since Greg Lowe took over as CEO. Back in May, we reported that Wolfspeed revenue was up 72% in the prior quarter whereas LED revenue was down 7%. Cree is targeting growth markets such as 5G wireless and electrical and autonomous vehicles with the power semiconductors.
And now Cree is building a new fabrication facility (fab) to help supply what it sees as a growing business. Cree is partnering with the state of New York for the silicon-carbide wafer fab. Cree is investing $1 billion and New York is providing a $500 million grant from the Empire State Development organization. Cree will also receive some local incentives for what will be a 480,000-ft2 facility when complete in 2022. Meanwhile, Cree is also undergoing a major expansion of its Durham manufacturing facility focused on materials. Cree is referring to the expansions as creating a "Silicon Carbide Corridor."